1 – Caterpillar 6090 FS Excavator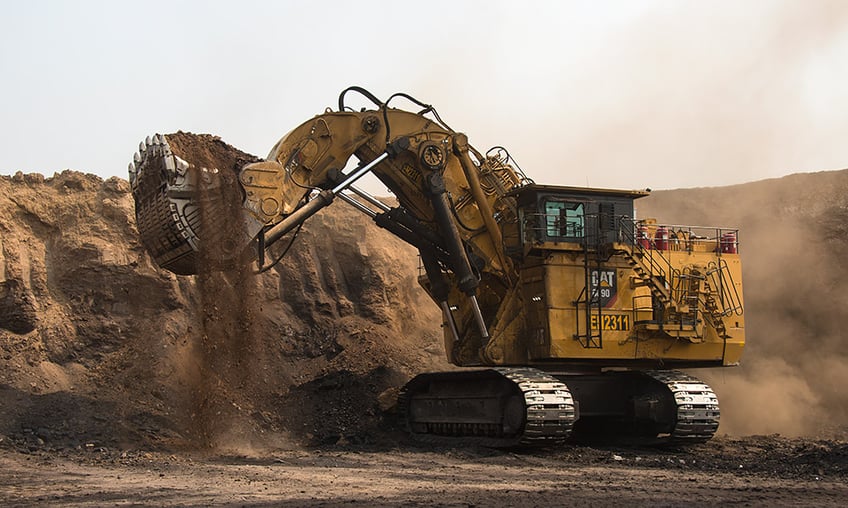 At an operating weight of an astounding 1,000 tonnes, the 6090 FS is the world's largest excavator. With twin Cummins QSK60 engines, it boasts and total engine rating of 3360 kW / 4500 HP. When Caterpillar expanded their mining capabilities with a purchase of Bucyrus in 2011, they based the 6090 FS on the Bucyrus RH400, which was originally launched in 1997. It can fill the largest Caterpillar dump truck (the 797) in only four passes based on its 52 m3 bucket with 93.6 tonne payload.
2 – Bucyrus RH 400 Excavator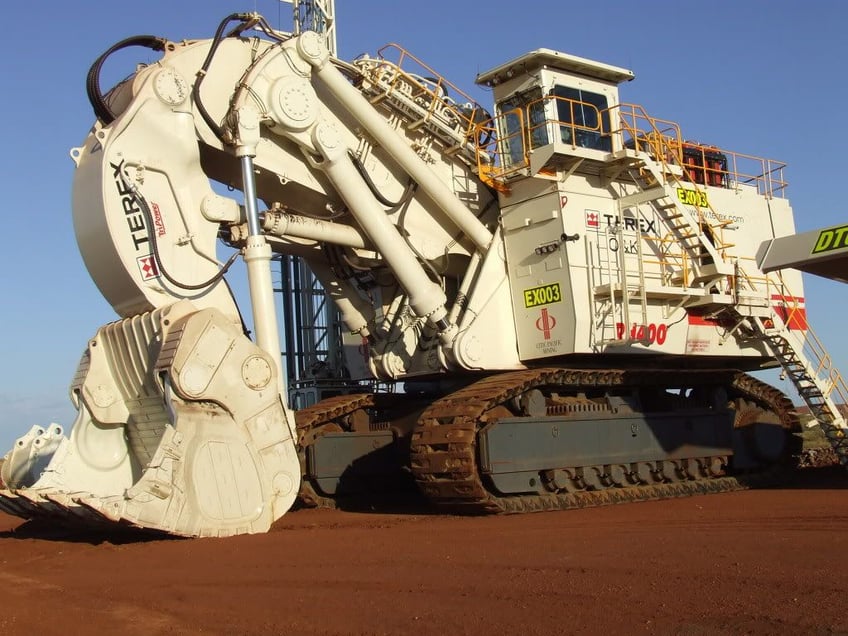 Originally launched as the Terex RH 400 and rebranded when Bucyrus purchased the Terex mining division in 2010, this model has an operating weight of 980 tonnes. With identical engine capacity to the Caterpillar 6090 RS, it requires six car batteries to simply start the engines. It has previously set the hydraulic mining excavator world record for the ability to move up to 9,900 tonnes of material in a single hour. It previously held the title of world's largest excavator, prior to the release of the Cat 6090 FS.
3 – Hitachi EX8000-6 Excavator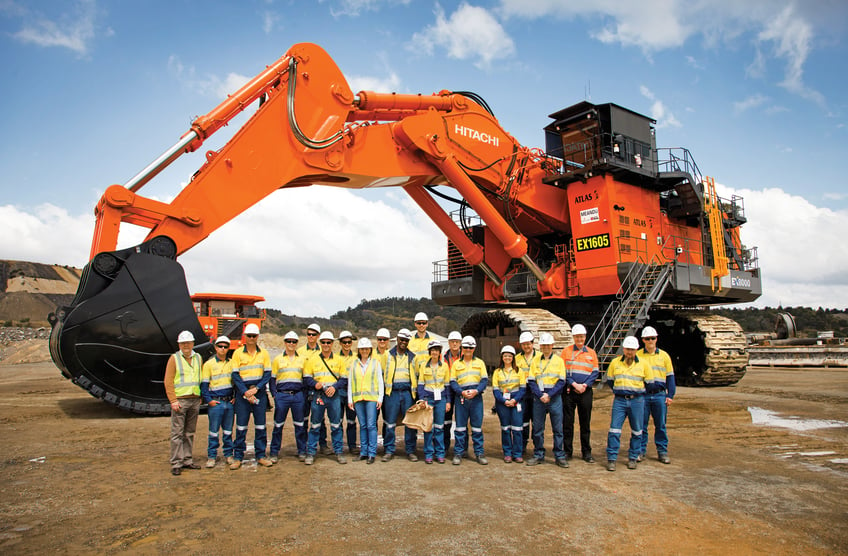 The largest excavator in the Hitachi fleet, the EX8000-6 offers the versatility of being fitted with either a 43.3 m3 backhoe bucket or a 40 m3 loading shovel. Boasting an operating weight up to 837 tonnes, it can fill the largest Hitachi dump truck (EH4000AC-3) in just five passes. The twin Cummins engines give a combined capacity of 2900 kW / 3888 HP. For perspective Hitachi's flagship mining excavator the EX1200-6, has an engine capacity one sixth the size of this!
4 – Liebherr R9800 Excavator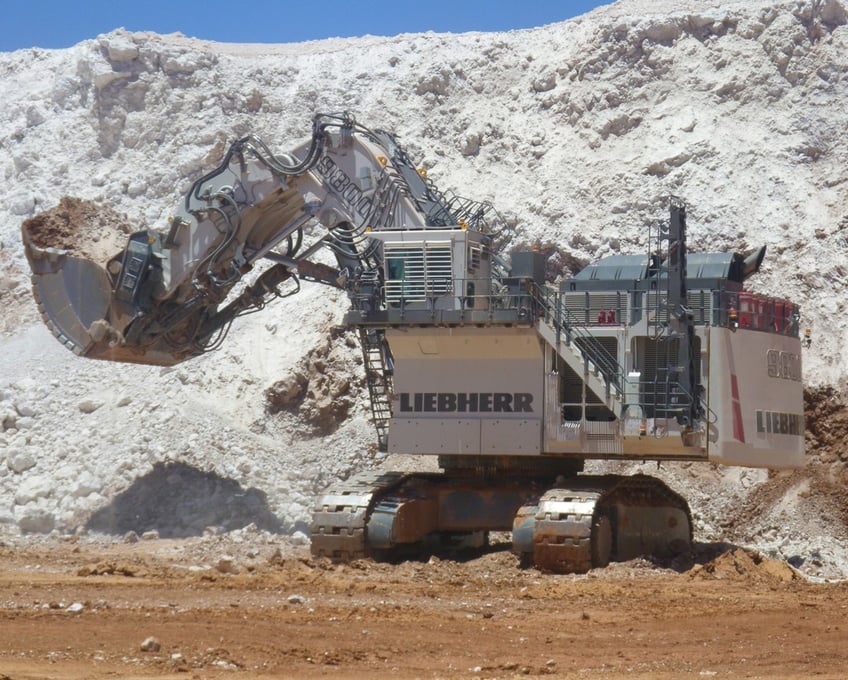 With an operating weight up to 810 tonnes, the R9800 from Liebherr comes with the option of either MTU or Cummins diesel engines, or an electric drive version. The electric version is rated up to 2984 kW / 4000 HP. It's 42 m3 shovel capacity or 47.5 m# backhoe capacity are designed to pair with the Liebherr T 264 or T 284 dump trucks for maximum efficiency.
5 – Komatsu PC8000-11 Excavator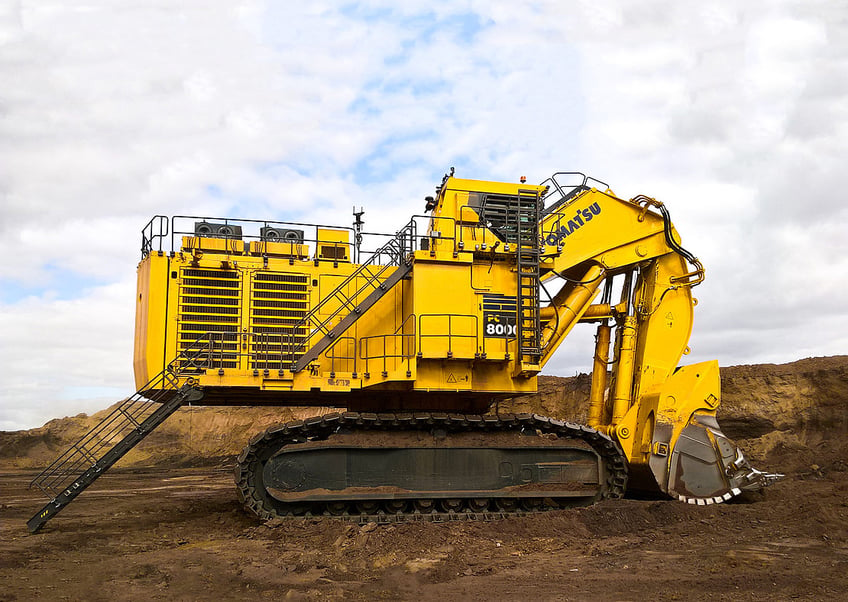 Weighing up to 773 tonnes, this is the largest excavator in the Japanese manufacturers portfolio. Komatsu's most frequently used model in the Australian/New Zealand market is the PC200-8 and it weighs over 36 times less than this behemoth. Its twin diesel engines give it a rating to 3000 kW / 4020 HP and it has shovel and backhoe capacity of 42 m3 (designed to integrate with trucks between 240 – 400 tonnes).