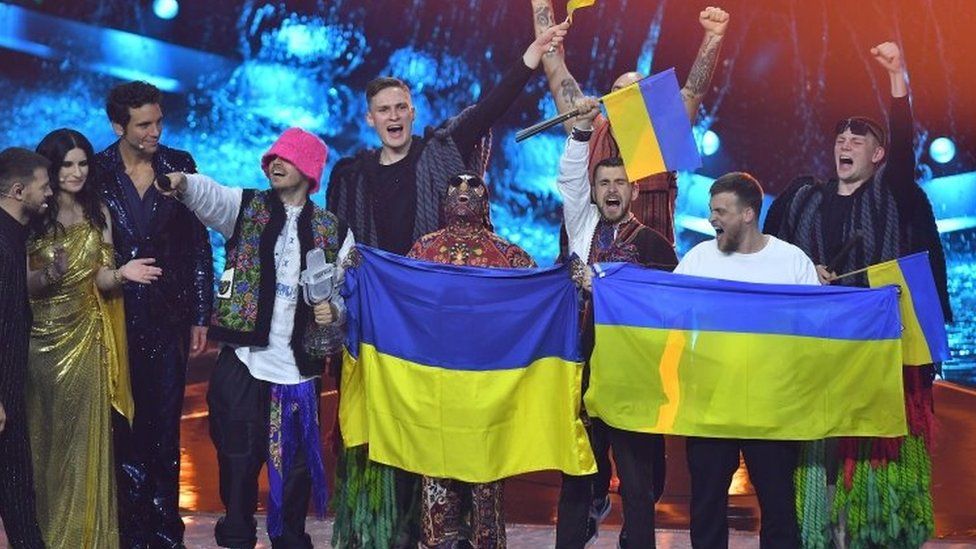 IMAGE SOURCE,EPAImage caption,
Ukrainians are celebrating winning this year's Eurovision amid the Russian invasion
"When they said that we had won, I shouted at the whole apartment," said Ivanna Khvalyboga, who was forced to flee Ukraine following the invasion.
Speaking from Poland, she told the BBC the win meant "incredible happiness for Ukraine and Ukrainian people".
Kalush Orchestra won the competition, beating the UK and Spain to clinch to the top spot.
The group had been predicted to take the title as support rose following Russia's invasion.
Ukrainian president Volodymyr Zelensky congratulated Kalush Orchestra and said Ukraine's courage "impresses the world".
In a post on Instagram, he vowed one day to host Eurovision in a "free, peaceful and rebuilt" Mariupol, referencing the port city that is mostly under Russian control.
Kalush Orchestra talked about Mariupol and the Azovstal steelworks at the end of their performance, a move praised by people online.
"I'm sure many people will search the internet for information about Mariupol and Azovstal and it's great," one person wrote on the messaging service Telegram. "We need attention, a lot of attention."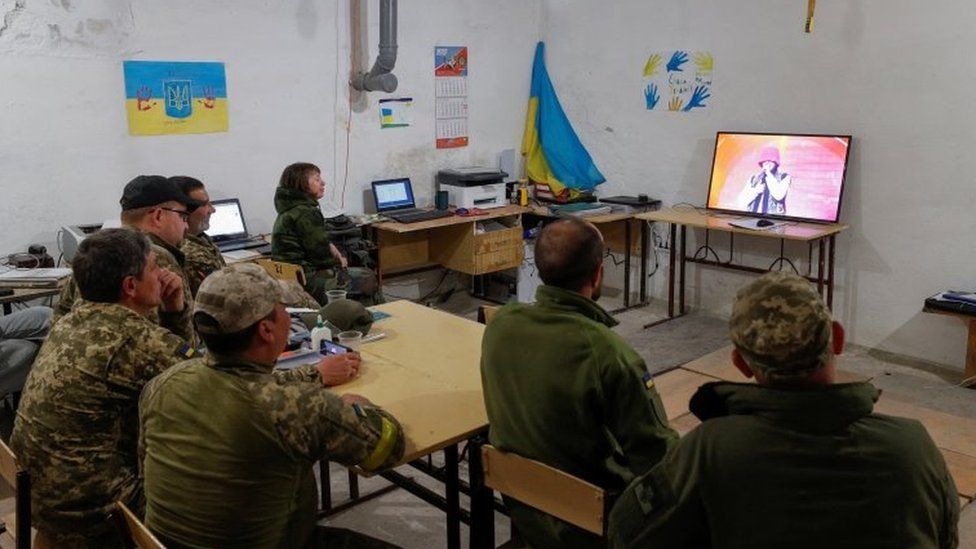 Yura Solodzhuk, the administrator of a Ukrainian Eurovision fan page, who was forced to flee his country, told the BBC he was shocked at the win but said it would "help attract the world's attention again".
"It's important to remind the world about us again and again, that Ukrainian music and culture exists," he said.
The group's song Stefania was written as a tribute to lead singer Oleh Psiuk's mother, but its emotive lyrics have been interpreted as a rallying cry and tribute to the nation.
"Stepfania is heard every day on the front line of our fighters as a call for freedom," Ann Fedirko told the BBC from Ukraine. "Every soldier remembers his mother, who prays for him at night and he has to win a free life for her."
"This song is like our blood, which is now on the lips of every Ukrainian," she added.
Celebrations are mainly muted with people unable to celebrate in public places due to curfews in place across the country. Many people watched the contest from home.
Not long after Ukraine's win was announced, a number of locations across the country were under an air raid warning.
Now Ukraine have won, there will need to be a discussion about where next year's Eurovision event could be hosted.
The winner usually hosts the show the following year, but depending on the situation in Ukraine, the European Broadcasting Union will have to come to a decision as to where it could be held.
But for now, Ukrainians are focused on what it feels like to be victorious and what it could symbolise in the future.
"We have won Eurovision, we will win the war with Russia!," Ms Khvalyboga said.