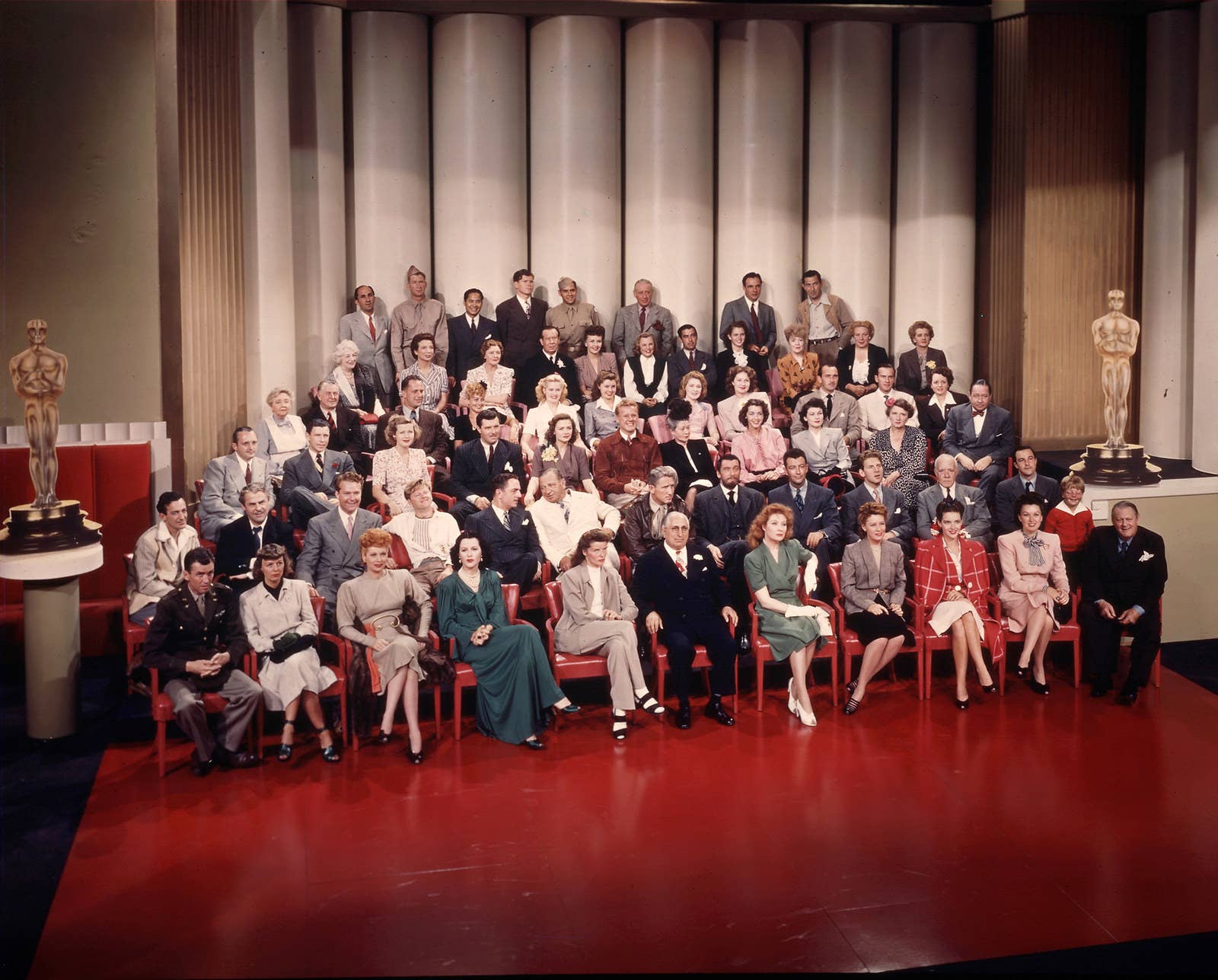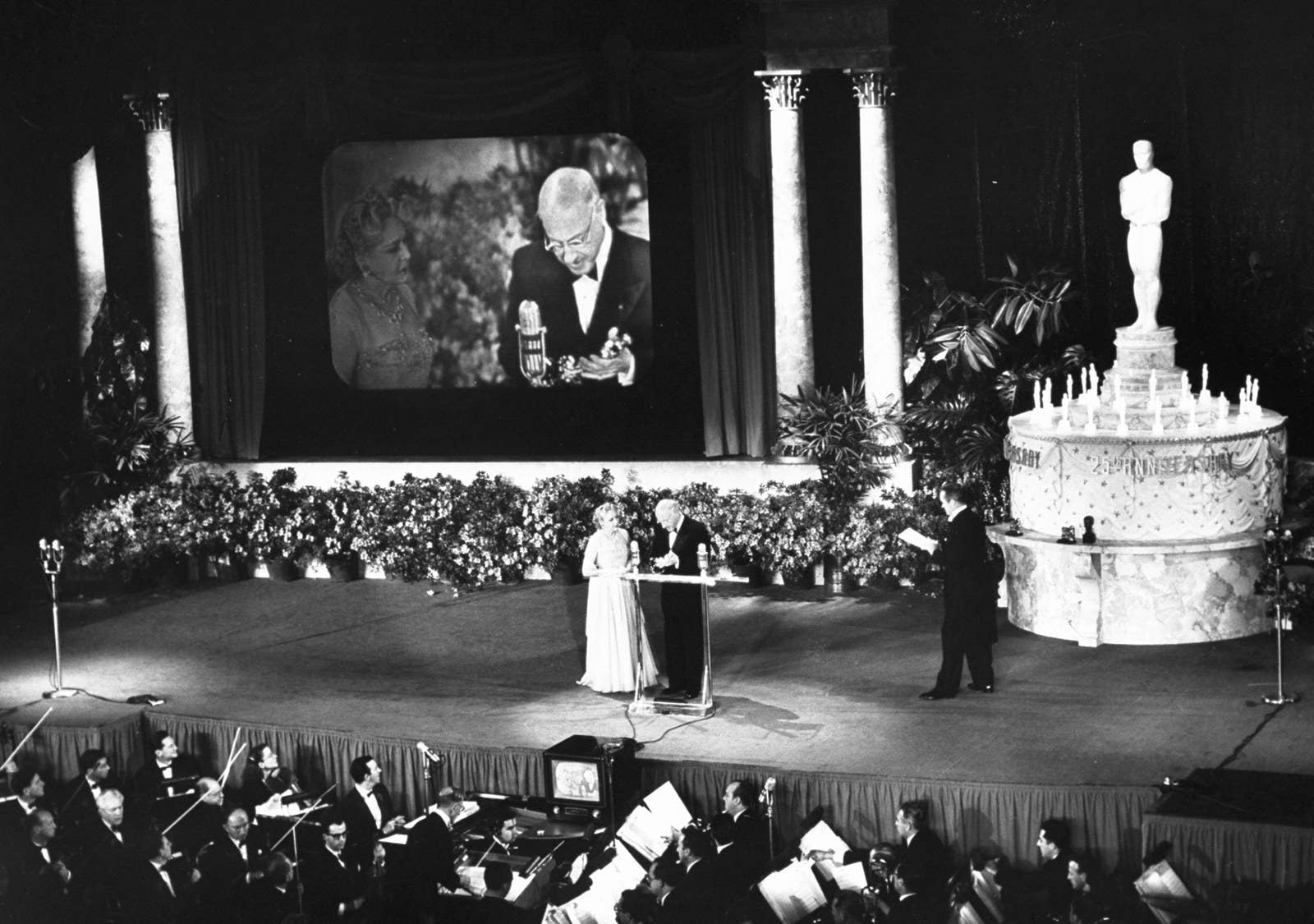 Mary Pickford (left) stands on stage with Cecil B. DeMille (center) and Bob Hope after presenting an award during the first televised Academy Awards show on March 1, 1953.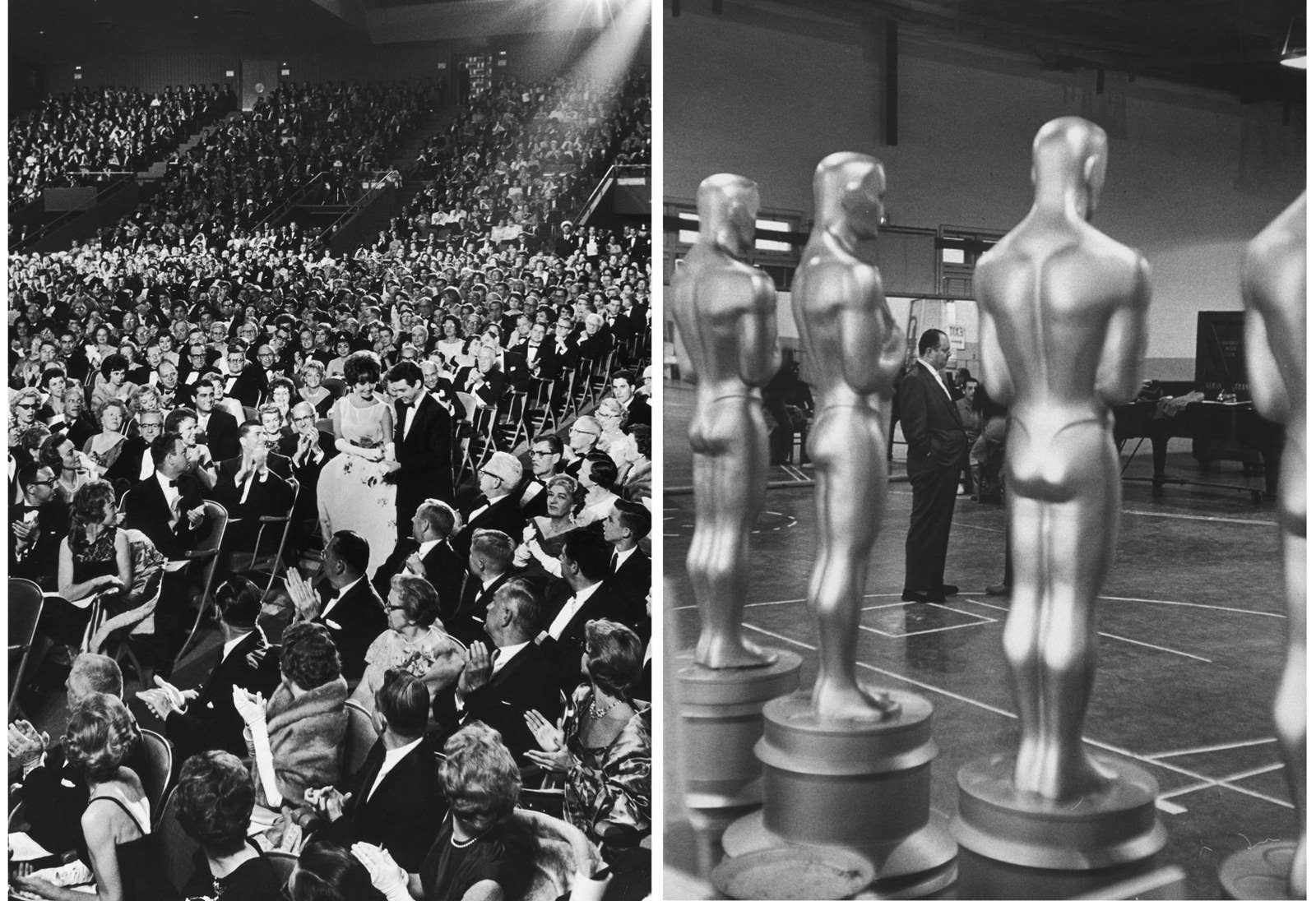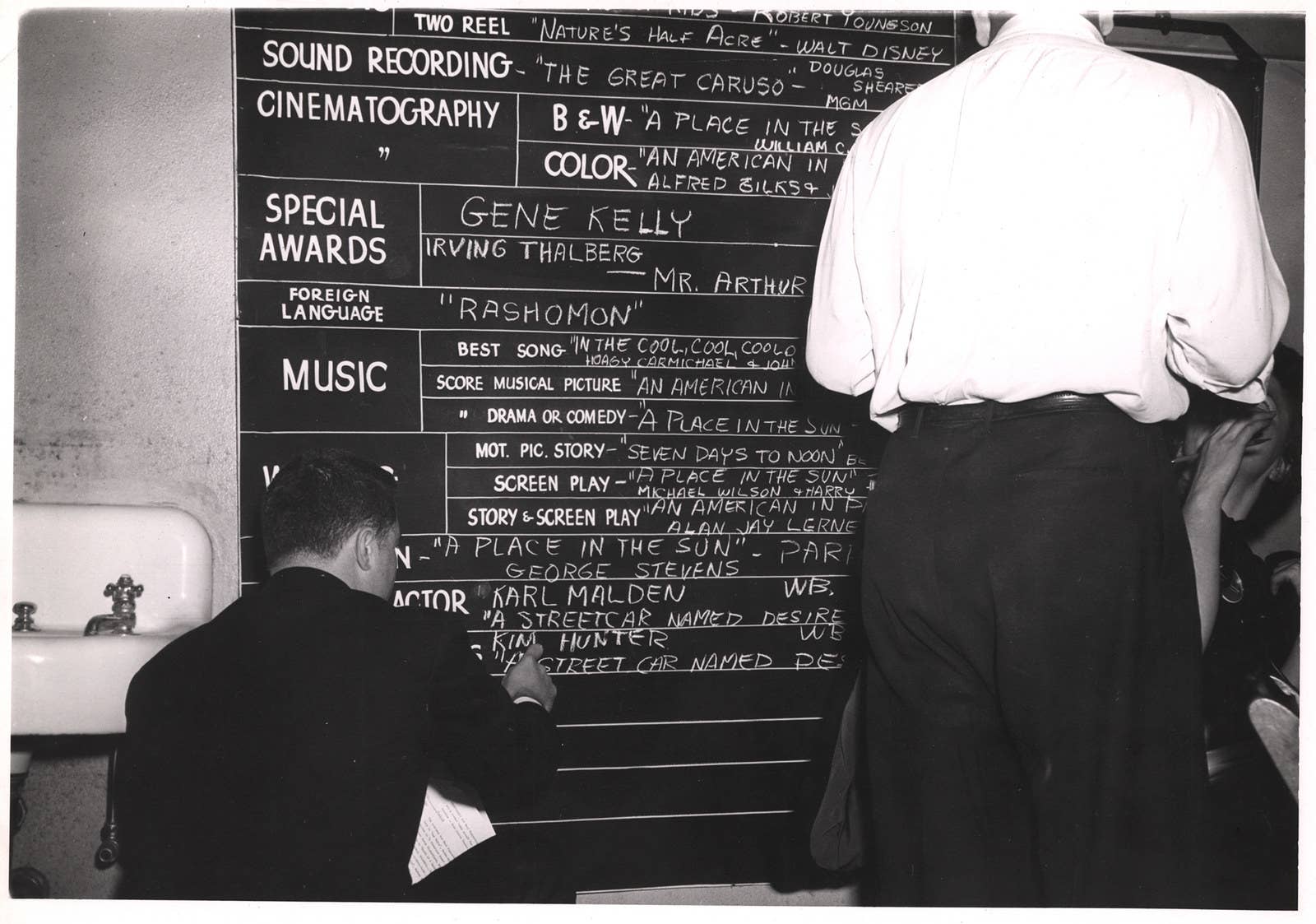 An Academy Awards staff writes the names of the winners on a chalkboard on March 20, 1952.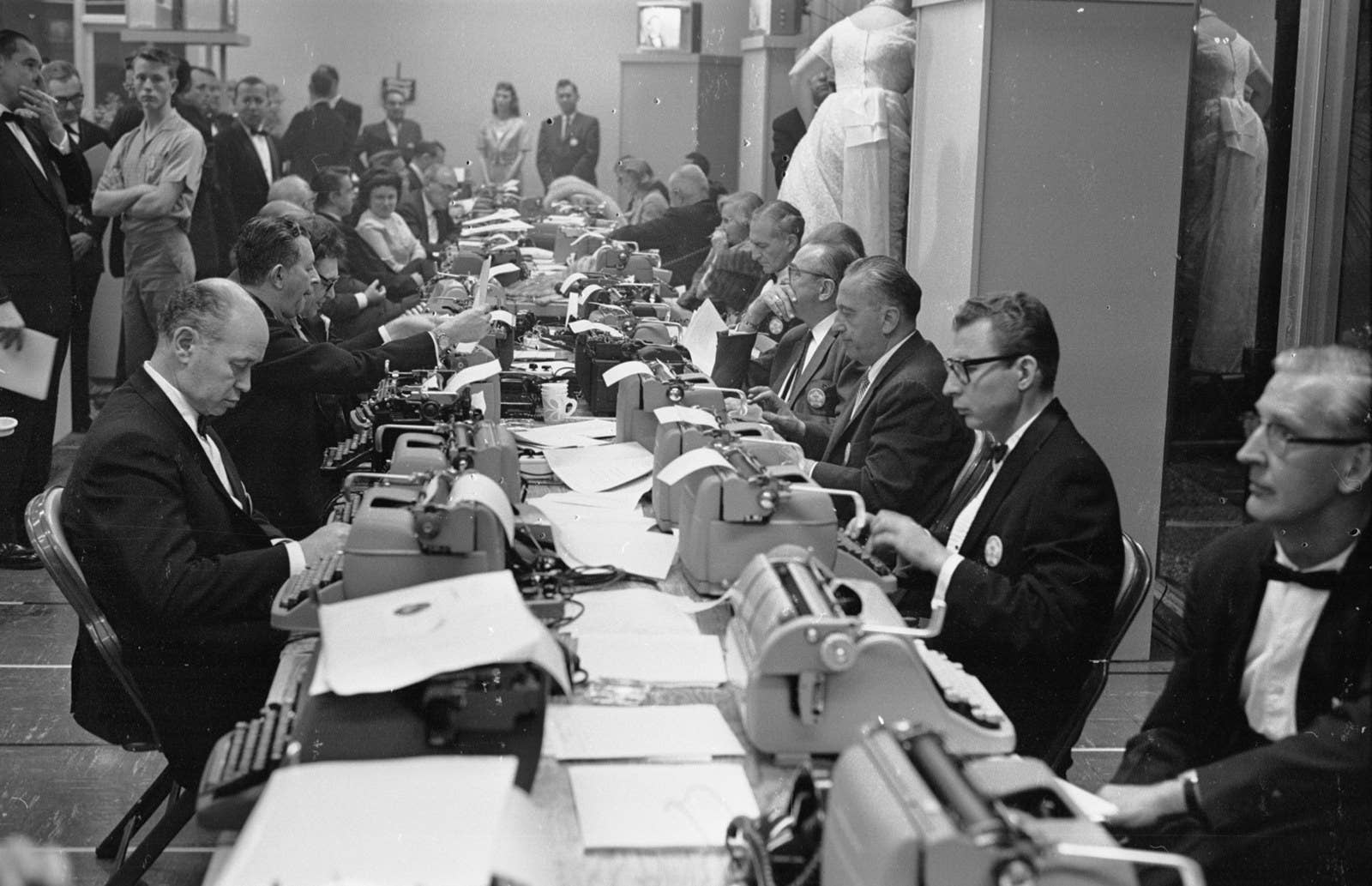 William Lovelace / Getty Images
Journalists type up their reports in the press room on April 11, 1962.
Silver Screen Collection / Getty Images
Singer Bobby Darin (left), actor Sandra Dee (center), and composer Harry Sukman (right) pose for a photo at the 33rd Academy Awards on April 17, 1961.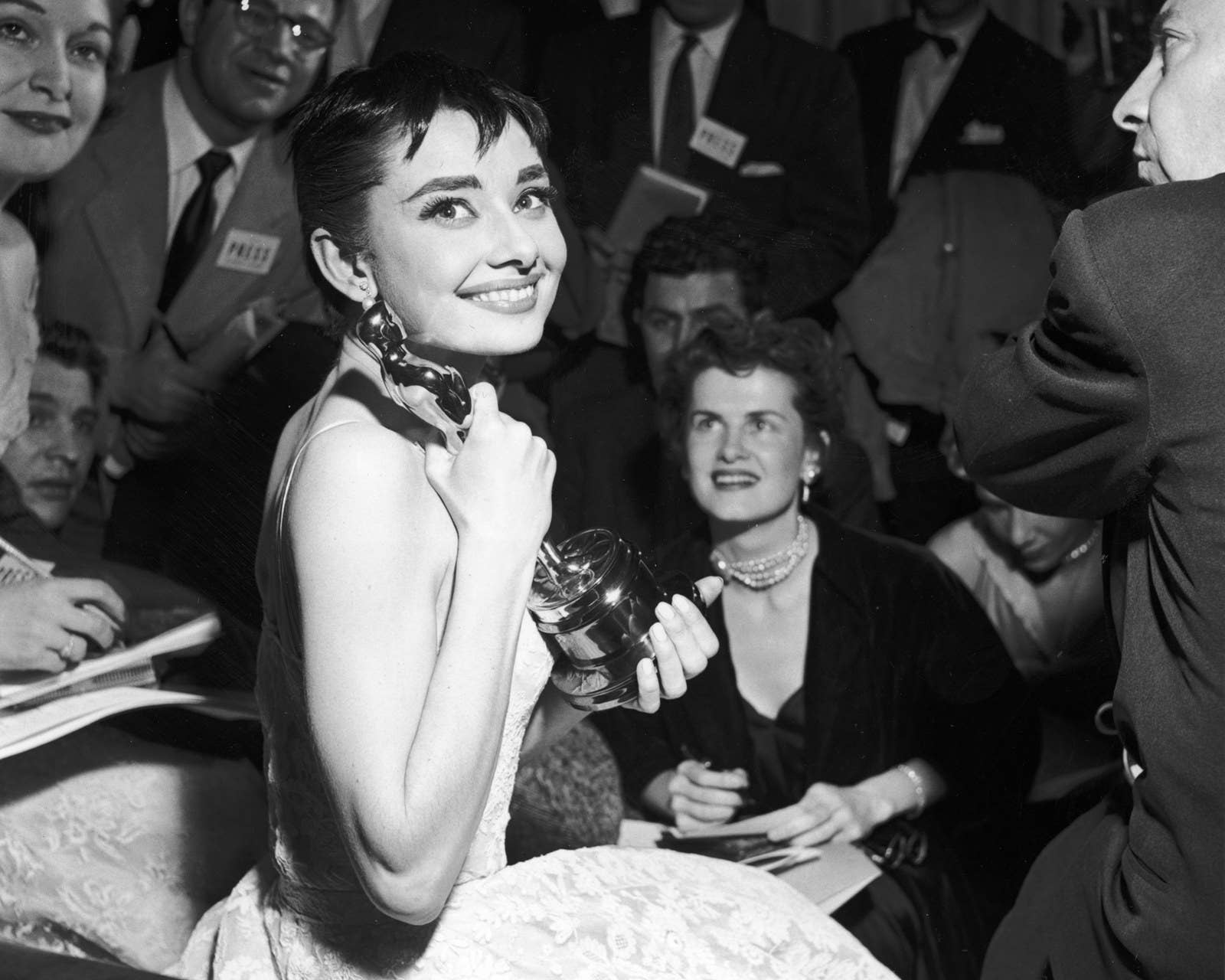 Hulton Archive / Getty Images
Actor Audrey Hepburn is surrounded by reporters as she shows off her Best Actress Oscar she won for her role in Roman Holiday, at the Academy Awards ceremony on March 25, 1954.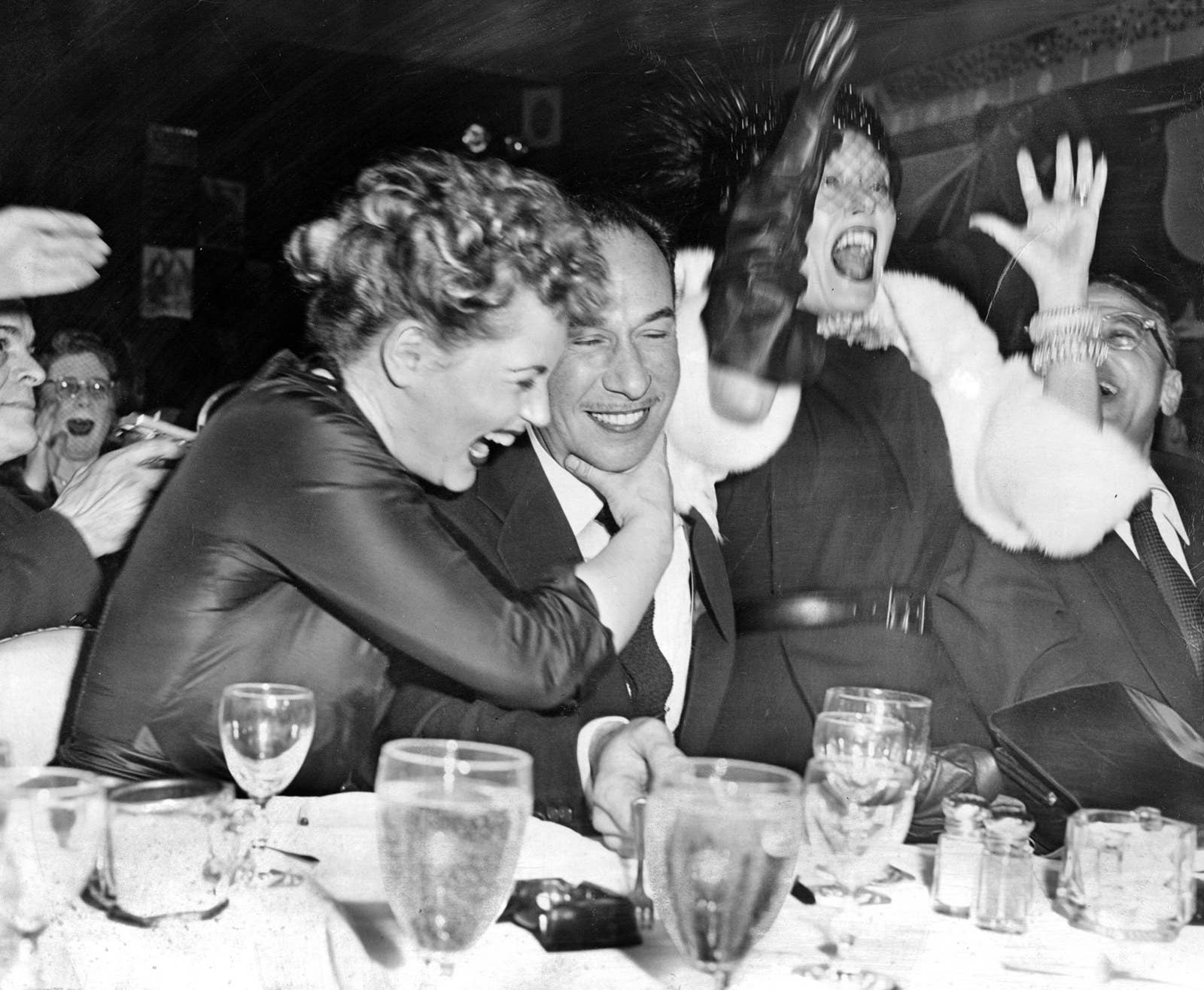 New York Daily News Archive / Getty Images
José Ferrer (center) is hugged by Judy Holliday (left) upon hearing the news that Ferrer's portrayal of Cyrano de Bergerac had earned him the Academy Award as 1950's Best Actor. Holliday was named as the year's Best Actress. Gloria Swanson (right), who was in contention for the Best Actress award, jumps with joy over Ferrer's success.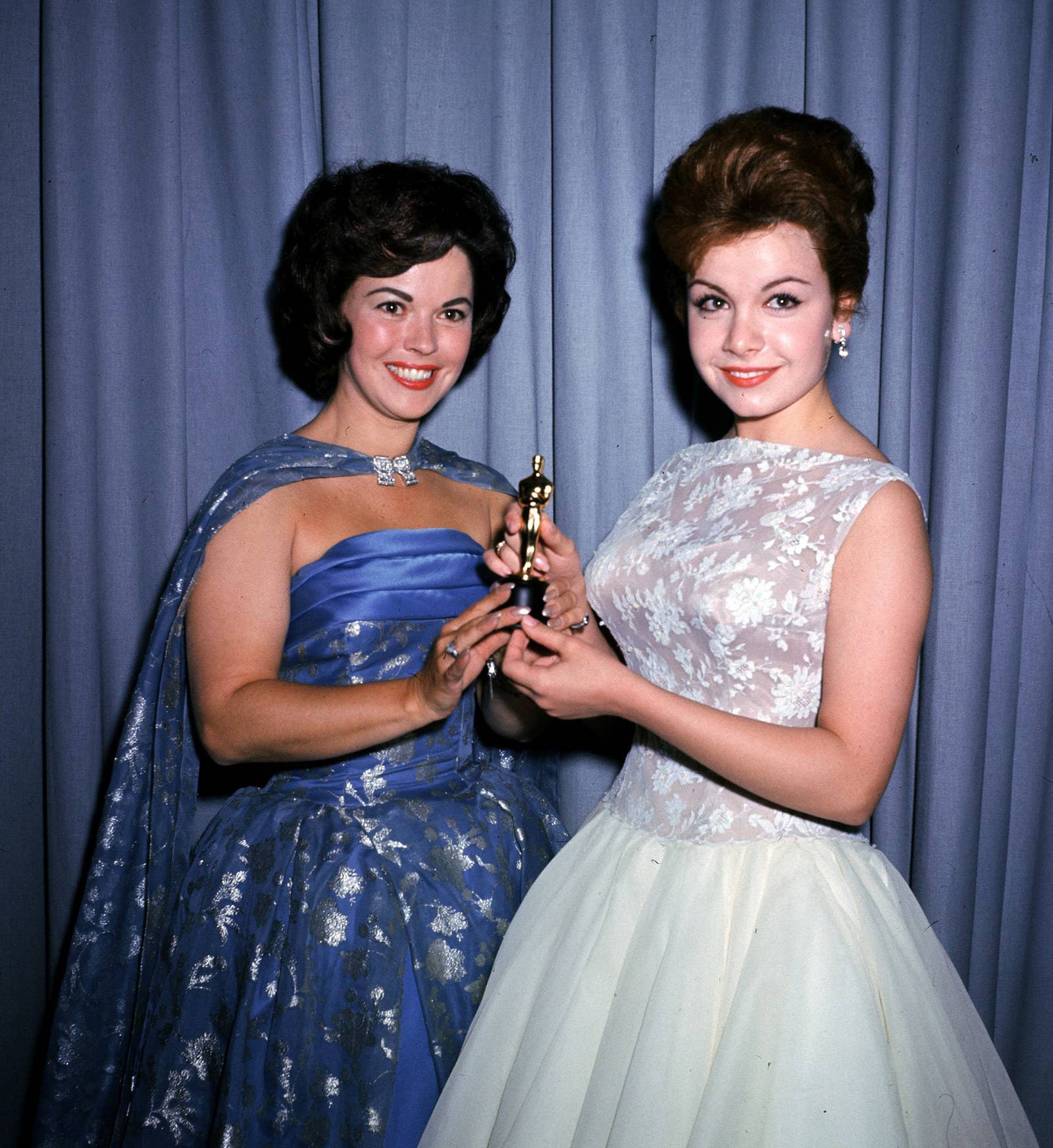 Brich / BRICH / AP/REX/Shutterstock
Actor Annette Funicello (right) and former child film star Shirley Temple (left) hold a miniature Oscar statuette at the annual Academy Awards in April 1961.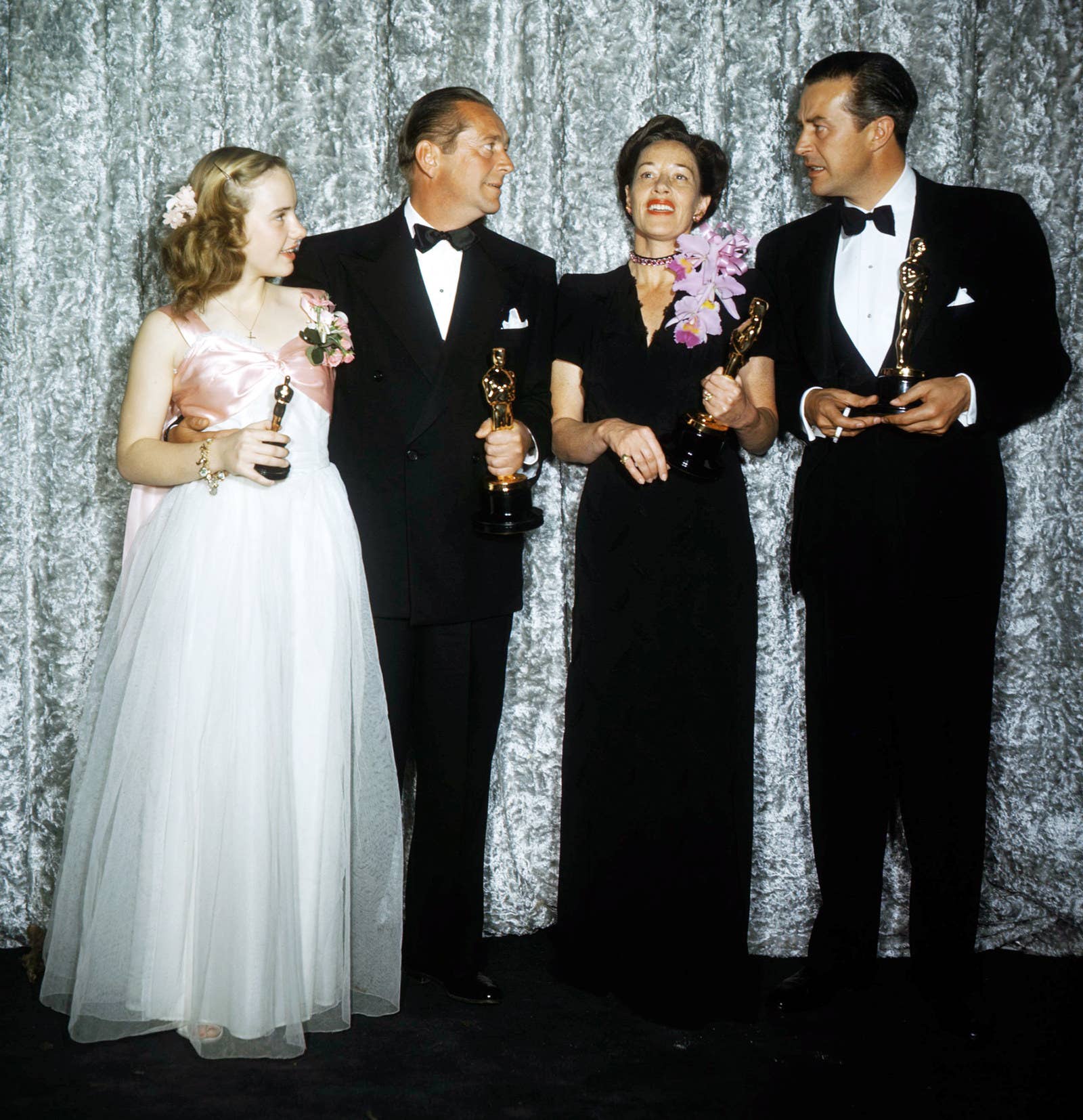 Silver Screen Collection / Getty Images
Oscar winners (left to right) Peggy Ann Garner, James Dunn, Ann Revere, and Ray Milland pose for the press at the 18th Academy Awards on March 7, 1946.
Frank Worth, Courtesy Of Capital / Getty Images
Husband and wife actors Robert Wagner and Natalie Wood attend an Oscar dinner in 1959.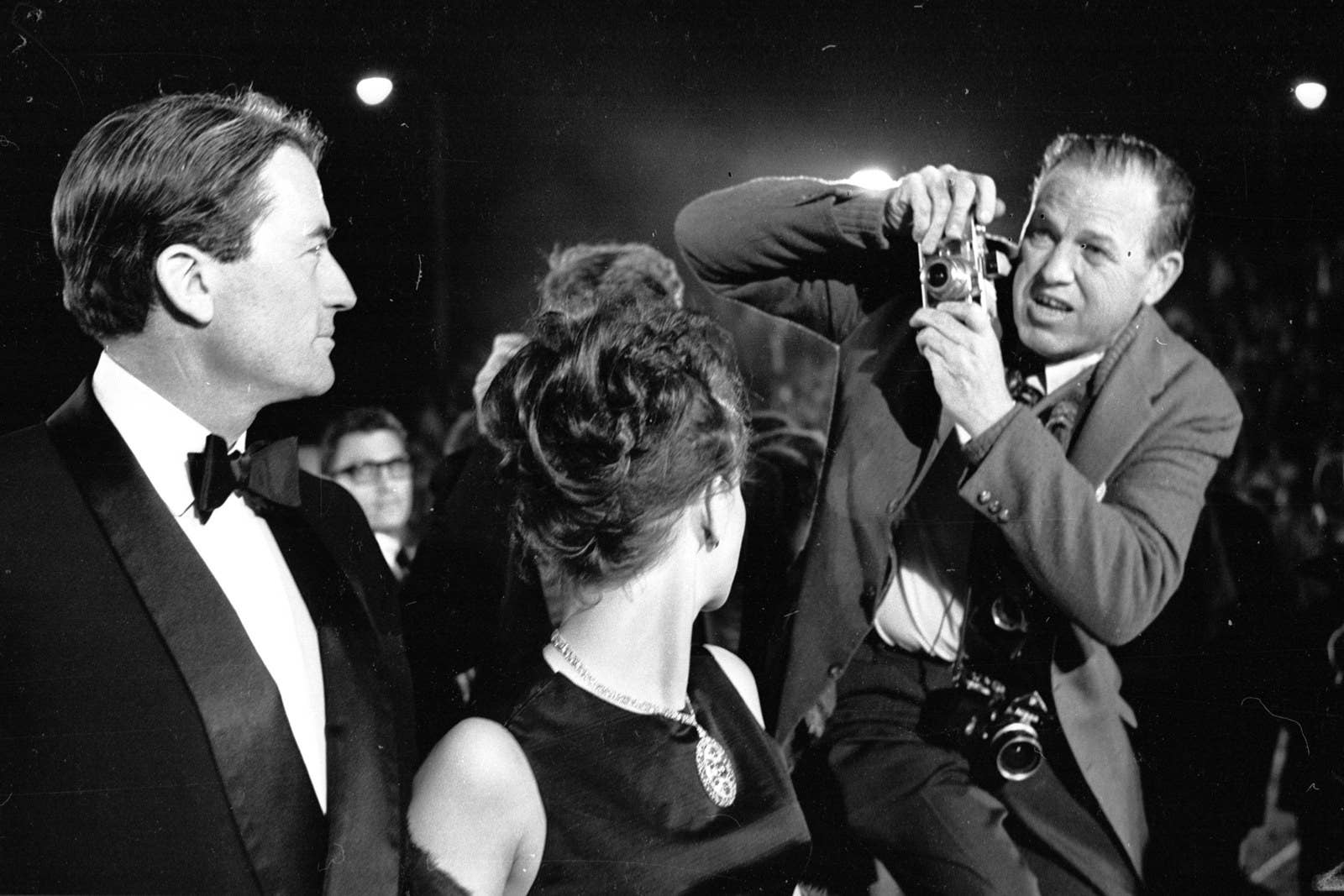 William Lovelace / Getty Images
Actor Gregory Peck and his wife Veronique are photographed at the Oscars ceremony on April 11, 1962.
Jack Albin / Getty Images
Actor Patty Duke holds her Oscar statuette and her pet chihuahua, Bambi, while seated next to Andy Prine during the Academy Awards afterparty on April 1963.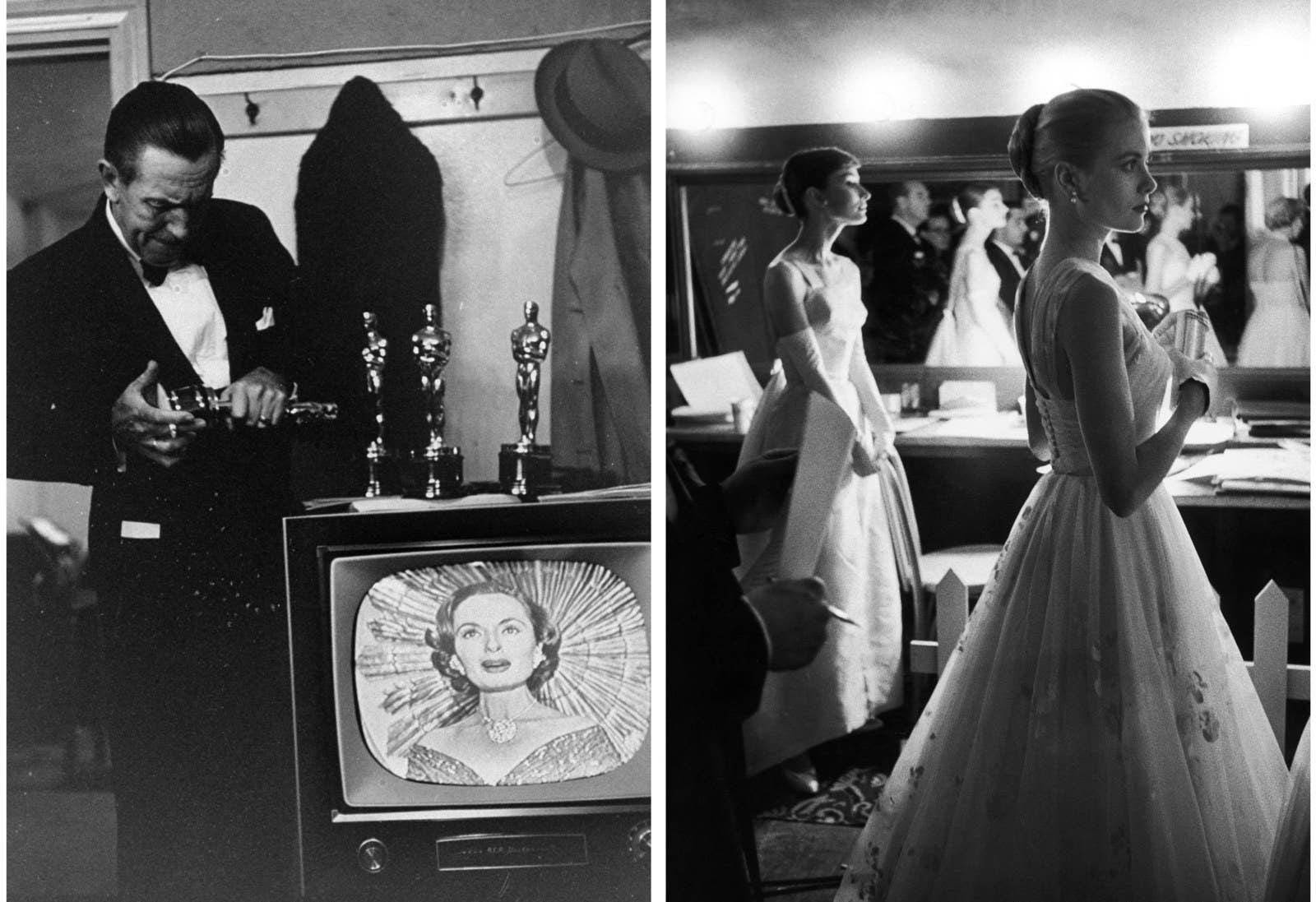 Getty Images
Left: Walt Disney repairs one of four Oscars he won at the Academy Awards on April 1, 1954. Right: Award presenters Audrey Hepburn (left) and Grace Kelly (right) wait backstage at the 28th Academy Awards on March 21, 1956.