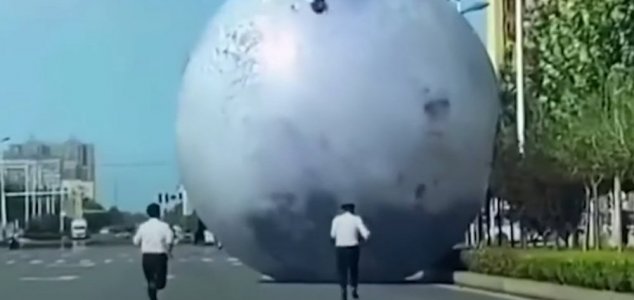 Imagine driving along the street and running into this… Image Credit: YouTube / Guardian News
Organizers of a festival in China's Henan province were recently forced to chase after a giant runaway moon.The enormous inflatable satellite was seemingly caught by a particularly strong gust of wind during this year's lunar festival celebrations in Henan province and broke free of its moorings.
In a video clip that has been circulating online, festival organizers can be seen chasing the errant lunar sphere as it careens down the street while motorists stop nearby to observe the spectacle.
It isn't clear how (or even if) they managed to get a handle on the thing.
This wasn't the only mishap to beset the lunar celebrations this year either – another inflatable moon reportedly escaped its handlers in Hong Kong and ended up blowing into a river.
The same thing has happened before, too, in the city of Fuzhou in 2016 during Typhoon Meranti.
Suffice to say, festival organizers might want to come up with a better way to secure their balloons.