If you've ever wanted to feel like a pharaoh without having to build your own lavish palace, you can settle for this unique Moscow apartment designed to make you feel like a ruler of ancient Egypt.
Over the last two decades, the Khamovniki district of Moscow has turned from a simple working-class district, into one of the most expensive living areas in the entire Russian capital. There are plenty of luxurious apartment complexes to choose from if you have the funds, but if you're looking for something truly unique, you may want to consider this $1.7 million apartment in the "Opera House" residential complex on Ostozhenka street. It's literally fit for a king, an Egyptian king, that is…
Walking into this unusual Moscow apartment, you are immediately transported to ancient Egypt. From the white marble flooring, and the columns lining the walls, to the Egyptian mythology-inspired statues and furniture decor, everything about this place screams ancient Egypt. Just don't look out the window and you can live out your pharaoh fantasy in peace.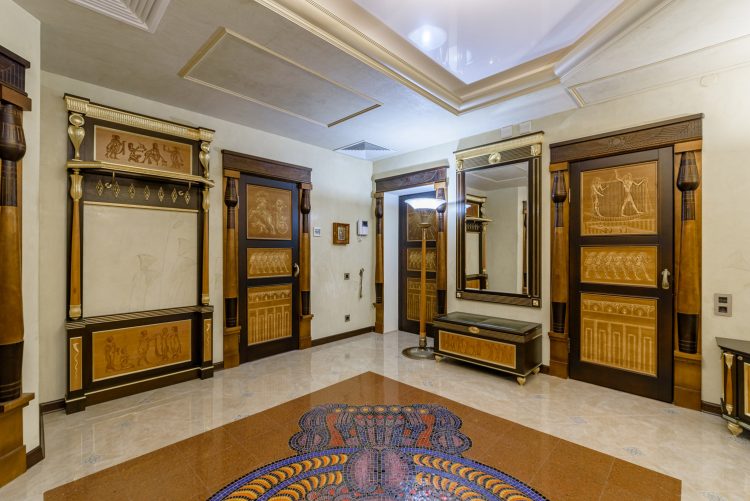 Even the bed is fashioned after an ancient Egyptian war ship, the bathtub is guarded by two golden statues of winged rams, and a watchful eye on the wall, and even the custom kitchen furniture is decorated with Egyptian symbols and motifs.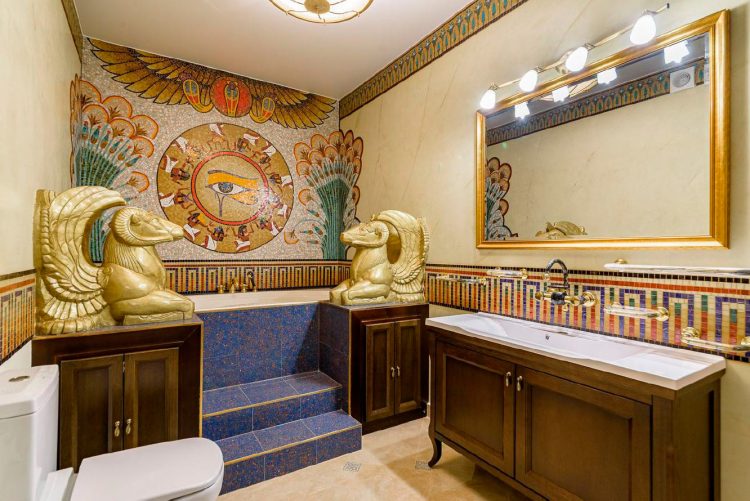 This unique apartment is on the fourth floor and offers a generous 184 square meters of living space, split into 2 bedrooms, kitchen, living room, study, large dressing room, and 2 bathrooms. The windows offer views of the Conception Monastery, the Cathedral of Christ the Savior, but why would you ever want to look outside with so much beauty surrounding you?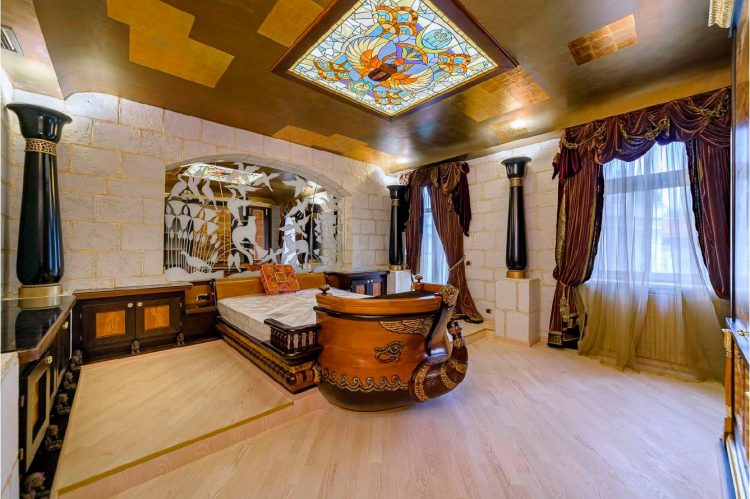 The Opera House is an exquisite building designed by Russian architect Mikhail Posokhin. If you ever feel like leaving the awesome Egypt-inspired apartment, residents of the building also have access to a swimming pool, gym, beauty salon, sauna and restaurant.
This exquisite piece of property is being sold for 128 million rubles (just under $1.7 million), which may seem expensive, but for a true pharaoh worthy of this luxury, it shouldn't be more than pocket change.