Engineers tasked with building an airport are faced with countless challenges: The ideal location needs ample space, endless flat ground, favorable winds and great visibility. But spots in the real world are rarely ideal, and engineers are forced to work with what they have, making sure that the end product is the safest possible structure for pilots. A survey of airports around the world turns up a mixed bag, ranging from dangerous and rugged landing strips to mega-size facilities that operate like small cities. Here, PM explores the world's most remarkable airports and why they stand out.
Kansai International Airport
Osaka, Japan
Background:
Land is a scarce resource in Japan, so engineers headed roughly 3 miles offshore into Osaka Bay to build this colossal structure. Work on the manmade island started in 1987, and by 1994 jumbo jets were touching down. Travelers can get from the airport to the main island of Honshu via car, railroad or even a high-speed ferry.
Why It's Unique:
Kansai's artificial island is 2.5 miles long and 1.6 miles wide—so large that it's visible from space. Earthquakes, dangerous cyclones, an unstable seabed, and sabotage attempts from protestors are just some of the variables engineers were forced to account for. As impressive as the airport is, Stewart Schreckengast, a professor of aviation technology at Purdue University and a former aviation consultant with MITRE, cautions that climate change and rising sea levels pose a very real threat to the airport's existence. "When this was built, [engineers] probably didn't account for global warming," he says. "In 50 years or so, this might be underwater."
Gibraltar
Background:
Between Morocco and Spain sits the tiny British territory of Gibraltar. Construction of the airport dates back to World War II, and it continues to serve as a base for the United Kingdom's Royal Air Force, though commercial flights land on a daily basis.
Why It's Unique:
Winston Churchill Avenue, Gibraltar's busiest road, cuts directly across the runway. Railroad-style crossing gates hold cars back every time a plane lands or departs. "There's essentially a mountain on one side of the island and a town on the other," Schreckengast says. "The runway goes from side to side on the island because it's the only flat space there, so it's the best they can do. It's a fairly safe operation as far as keeping people away," he says, "It just happens to be the best place to land, so sometimes it's a road and sometimes it's a runway."
Madeira International Airport
Portugal
Background:
Madeira is a small island far off the coast of Portugal, which makes an airport that is capable of landing commercial-size aircraft vital to its development. This airport's original runway was only about 5000 feet long, posing a huge risk to even the most experienced pilots and limiting imports and tourism.
Why It's Unique:
Engineers extended the runway to more than 9000 feet by building a massive girder bridge atop about 200 pillars. The bridge, which itself is over 3000 feet long and 590 feet wide, is strong enough to handle the weight of 747s and similar jets. In 2004, the International Association for Bridge and Structural Engineering selected the expansion project for its Outstanding Structure Award, noting that the design and construction was both "sensitive to environmental and aesthetic considerations."
Don Mueang International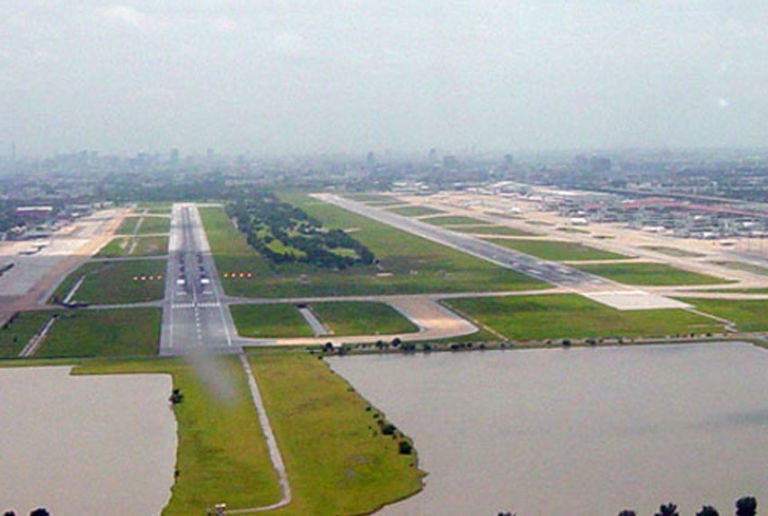 Bangkok, Thailand
Background:
From a distance Don Mueang International looks like any other midsize airport. However, smack-dab in the middle of the two runways is an 18-hole golf course.
Why It's Unique:
Schreckengast, who has worked on consulting projects at this airport, says one of the major problems is that the only taxiways were located at the end of the runways. "We recommended that they build an additional taxiway in the middle, from side to side, and they said 'absolutely not, that will take out a green and one fairway.'" The airport and the course were originally an all-military operation, but have since opened up to commercial traffic. Security threats, however, have limited the public's access to the greens.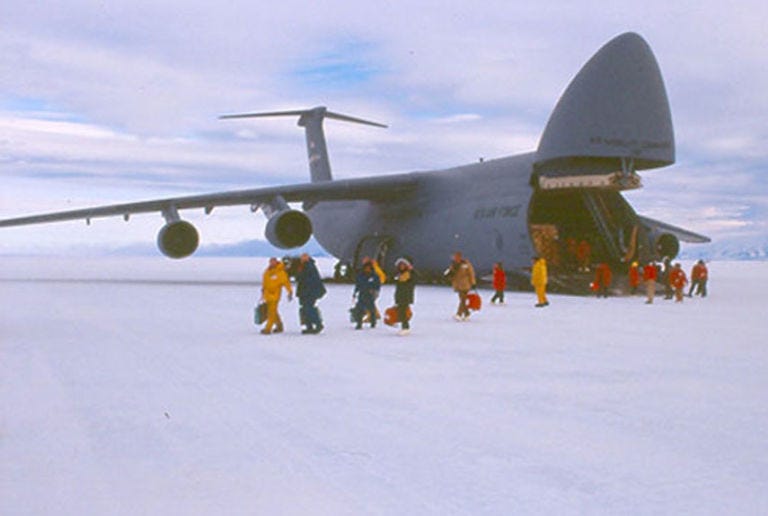 Antarctica
Background:
The Ice Runway is one of three major airstrips used to haul supplies and researchers to Antarctica's McMurdo Station. As its name implies, there are no paved runways here—just long stretches of ice and snow that are meticulously groomed.
Why It's Unique:
There is no shortage of space on the Ice Runway, so super-size aircraft like the C-130 Hercules and the C-17 Globemaster III can land with relative ease. The real challenge is making sure that the weight of the aircraft and cargo doesn't bust the ice or get the plane stuck in soft snow. As the ice of the runway begins to break up, planes are redirected to Pegasus Field or Williams Field, the two other airstrips servicing the continent.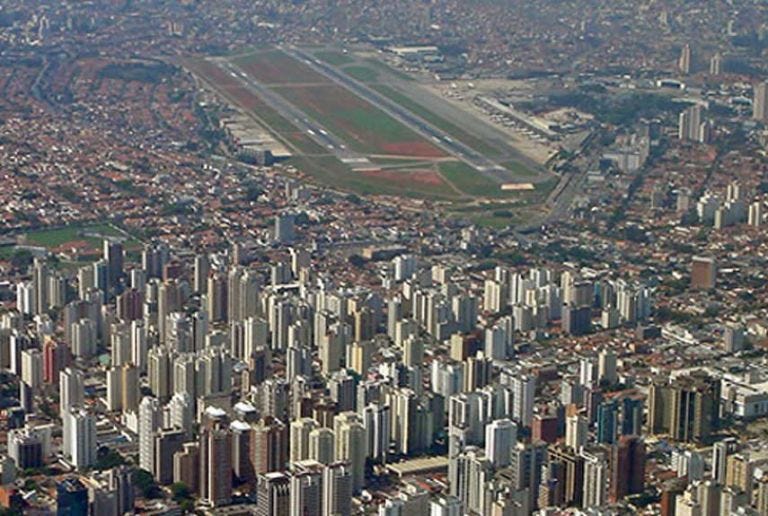 Sao Paulo, Brazil
Background:
Most major cities have an airport, but rarely are they built just 5 miles from the city center, especially in metropolises like Sao Paulo. Congonhas' close proximity to downtown can be attributed in part to the fact that it was completed in 1936, with the city experiencing rapid development in the following decades.
Why It's Unique:
While having an airport only 5 miles from the city center may be a convenience for commuters, it places a strain on both pilots and air traffic control crews. "It becomes a challenge in terms of safety to just get the plane in there," Schreckengast says. "Then you throw on noise restrictions and these terribly awkward arrival and departure routes that are needed to minimize your noise-print and it becomes quite challenging for pilots." Fortunately, Sao Paulo's many high-rise buildings are far enough away from the airport that they aren't an immediate obstacle for pilots landing or taking off.